Discover more from ScreenplaySubs Newsletter
ScreenplaySubs feature updates and new movies
ScreenplaySubs Update #2
Smooth scroll + Overlay view + New Movies
Hi folks!
It's week 2 of ScreenplaySubs mailing list and we're super excited to showcase new updates coming very soon this week 🎉
Feature Updates
Smooth scrolling: Screenplays jump between lines smoothly and lets user scroll to surrounding lines without forcing them to view the current line (Check out the screenshot and video below to see all the updates in action!).

2 view modes: Overlay view, and color coded view. Users are able to change the view mode in the extension popup button.

Overlay view: This mode displays screenplays over the video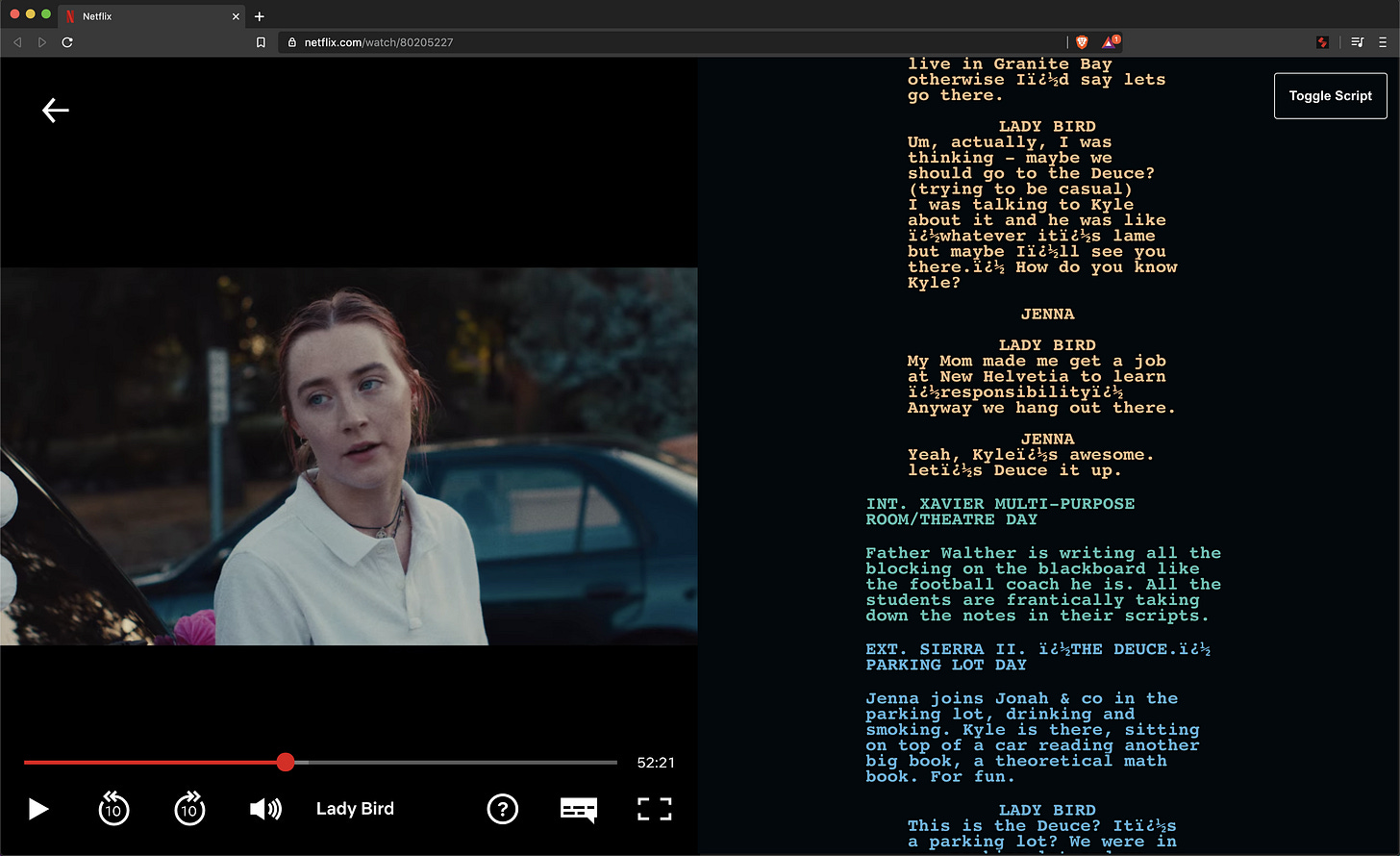 Note: This update will be published early this week since it's being reviewed by the Chrome/Firefox extension team.
New Movies
The Dark Knight

Inception

Hot Fuzz

Inglourious Basterds
Work-in-progress features
Increase accuracy of existing movies.

Add a screenplay view to the website, where users can read a screenplay, select a particular scene, and jump to that scene on Netflix.

Ability for users to scroll in the screenplay from the incorrectly synced line to the correct one and click on a 'fix' feature to help with the the sync accuracy.

Add a search feature where users can search for words/phrases WITHIN a script. E.g. searching for 'foot' would result a bunch of Quentin Tarantino scripts

3rd view mode that color code based on characters instead of scenes

email me at cendoloverboba@gmail.com to suggest features or give some general features :)